Rihanna is well known for making fashion statement and this time too she left us amazed with her new hairdo. Well, this time it isn't just a mere cut, but she has shaved her hair, and is now looking ultra glamorous.
Rihanna's hair shaved on sides and the back, and a rooster like hair length on the top has left her fans totally in a state of awe. She has always been taking risk when it concerns her hair, and she has always been victorious. Shaving hair can be a ridiculous thing to do, but who knows it how to carry it off other than Rihanna herself.
Rihanna - Shaved hairstyle
Summer is hot, no doubt, but Rihanna is hotter in her new avatar. While some of her fans actually like it, some others are not. But would that bother Rihanna? Will she stop exploring the different hair styles? We don't think so!!
Rihanna - Shaved hairstyle
Resembling the Mohawk hairstyle, Rihanna looks daring and bold in her sexy hairdo, and man other celebs have tried this look before her.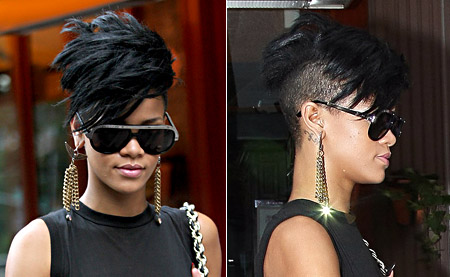 Rihanna truly clarifies that it's all about attitude; have the right attitude and you can carry off anything and everything will poise and elegance. Hats off Rihanna!!